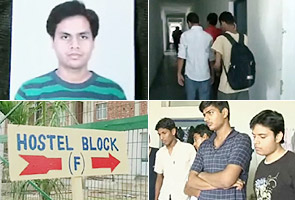 Ghaziabad: A 19-year-old student of an engineering college in Ghaziabad, Abhishek, has allegedly committed suicide because he couldn't take the ragging in his college any more.

His family says he sent his friend a text message last night saying he couldn't bear the ragging before he jumped off the hostel roof.

"A friend of his had gone to meet him and he sent him a text message saying, I can't come, I'm being ragged. The message is still there on the cell phone and there's a message on Facebook too," said Shrivanshu, victim's brother.

He was taken to a hospital in Noida where he was in a coma for a while before he died.
But the engineering college has denied any incident of ragging.
"There was no ragging. He was up there alone. His classmates also confirmed this. Nobody can access the roof except first year students as it is surrounded by fences," said Anil Verma, PRO, SRM College.